It's the New York City Fringe Festival, which is always a great time for the theater world. Fringe first started out in Edinburgh, Scotland and moved to international theater hubs to reproduce its success. New York Fringe is the largest theater festival in North America and features 200 theater companies at 19 different venues across Lower Manhattan. We at LMezz are seeing something like 25 shows over the next three weeks, and while it seems like a lot to us (bring it!), it's only about an eighth of the shows out there to see! If you wish to ponder over the Fringe show listing for several hours on a slow work day while your boss is on vacation in Cozumel like we did, go forth and see what peaks your interest!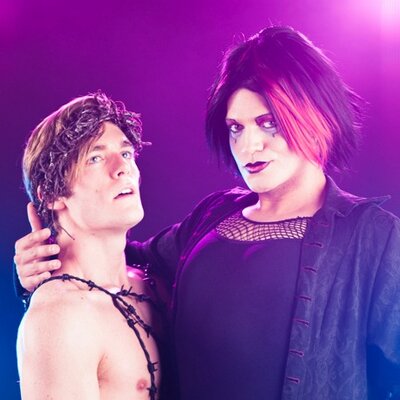 Coming by Erik Ransom
Synopsis: Coming is a musical that puts a devilish, glam-rock edge on the second coming of Jesus Christ. Set in contemporary Manhattan, a "new Sodom," we met Damien Salt (Erik Ransom), a Dr. Frank-N-Furter-esque rock star who also just happens to be the Anti-Christ. He sets out to corrupt Josh Crenshaw (Glen North) aka Jesus Christ's second coming, an innocent, God-loving square from Bethlehem, Pennsylvania. Josh and his golden voice (cough and ripped abs cough) audition for a reality t.v. talent competition, and Salt snatches the opportunity to tarnish Josh's Christian image and revise the story of Earth's final days.
Why Go?: This is truly Erik Ransom's musical and he does double (quadruple?) duty as the show's composer, lyricist, book writer, and star. His other campy, satirical musical, Anthem, premiered Off-Broadway this year, and it's easy to see Coming produced on a similarly successful, perhaps even better scale.
Stand-Out Bits: Coming is a glamorous satire packed with funny pop culture quips and clever lyrics. Coming also features excellent performances from Glen North, whose blue-eyed contemplative innocence never feels artificial (despite those abs!) and Courter Simmons, whose multiple roles as Cain and the angel Israfil are fabulously gripping.
There were tonal shifts that I felt needed to be smoothed out a bit more, such as when Damien's lover Cain is killed in a hate crime. I could feel the audience indecisively cringe with confusion as to whether this scene was supposed to be taken seriously or not, because we were uproariously laughing not five seconds ago. Coming is at its best when loud, sarcastic, and blasphemous, which thankfully is most of the time.
Coming plays at Theatre 80 St. Marks Place on 8/10 at 4pm, 8/15 at 8:45pm, 8/20 at 8:45, and 8/22 at 2pm
No One Asked Me by Kate Ballen
Synopsis: Based on her experiences as a college counselor in NYC public schools, Kate Ballen's No One Asked Me centers around the lives of three undocumented students preparing to graduate high school. Alyssa (Alaina Fragoso) is a straight-A student from Peru who hopes that hard work and dedication will get her through the immigration system and prepared for college. Daniel (Corneilus Franklin) is a bright and sensitive student from Uganda. His mother re-located her family to the U.S. on false promises made by her husband.  Sophie (Octavia Chavez-Richmond) came to New York from the Dominican Republic at the age of 5 and already expresses disillusionment with the system.
Why Go?: Anyone can tell you that immigration is a hot button issue in American politics, and No One Asked Me puts a very human face on the issues  that a lot of American citizens take for granted. Over 64,000 New York City graduates are illegal immigrants every year.
Stand-Out Bits:  No One Asked Me presents multiple facets of life under illegal status, and every scene of the show is uniquely intimate and deeply perceptive. Each of the main characters, as well as key figures like their school counselor, family members, and an emotionally-detached immigration lawyer, display rich and complex emotional lives that grip the audience with poetic energy. No One Asked Me is an eye-opening and culturally important work to witness, if only to learn to understand the struggle of millions of people in our country.